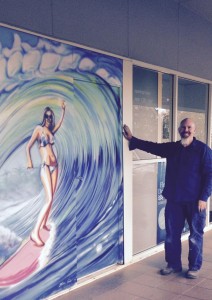 Local Warwick artist Steve Parker spent a hot Saturday putting his amazing touch to Toowoomba's temporary front façade.
Sincere thanks Steve for helping us out with your amazing talent! We love the spine in the wave!!
Hopefully we will never need another temporary shopfront… but if we do Deb and Sonja request a buff male figure next time please!
If you would like to see more of Steve's work, visit him at www.sjparkerdesign.com.au
He put in a huge days work in incredible heat so an adjustment from Matt was welcomed afterwards.