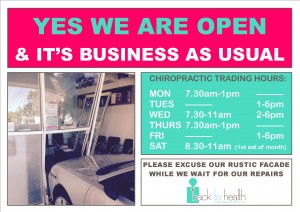 Our Toowoomba practice had an eventful Wednesday afternoon when a slightly wayward car landed in our shopfront window. We were very lucky it happened at lunchtime when no patients were in reception and Debbie was not at the front desk. Thankfully no one was hurt and the driver escaped without injury. To the driver, we are just very glad you are ok!
Sincere thanks go to all our Emergency Services, Tow Truck drivers, Glass Tradespeople, Centre Management, our trusty Centre Cleaner and of course Debbie for swift and efficient handling of all the necessary clean up and rearranging.
Thank you to those of you who were inconvenienced on Wednesday and without question moved your appointments to another day. Thank you also to those of you who have contacted us to check on us and give offers of help (and given plenty of cheek in the meantime to keep us looking at the funny side!)
We will have some delay before we will have new glass frontage but in the meantime, YES WE ARE OPEN FOR BUSINESS AS USUAL. Please come in and see us and excuse our more rustic image while we get the building back into perfect shape.
PS. Deb's new uniform!